The crucial difference between copper cable and fiber optics is that copper cable transmits signal in the form of electrical pulses while fiber optics possess signal transmission in the form of light pulses.
Another major difference between copper cable and fiber optics lies in their name itself. A copper cable is made of copper wire. As against fiber optics is formed by single or multiple strands of glass fiber.
Before proceeding further, have a look at the rough draft towards the contents to be discussed under this article.
Content: Copper Cable Vs Fiber Optics
Comparison Chart
| Parameter | Copper cable | Fiber optics |
| --- | --- | --- |
| Working principle | Data is transmitted in the form of electrical pulses. | Signal transmission is accomplished in the form of light pulses. |
| Composed of | Copper wire | Glass fiber |
| Cost | Low | High |
| Transmission speed | Slow | Fast |
| Attenuation | More | Less |
| Transmission range | Short as compared to fiber optics | Long as compared to copper cable |
| Size and weight | Thick and heavy | Thin and light |
| Reliability | Less reliable | More reliable |
| Power consumption | Greater than 10 W per user. | Around 2 W per user |
| Bandwidth | Lower | Higher |
| Lifespan | 5 years | 30 to 50 years |
| Noise immunity | Low | High |
Definition of Copper Cable
Copper cables are guided media composed mainly of copper wires that allow transmission of data from an end to another. Copper cable due to its conductive nature widely used as a medium for data transmission for the past 50 years.
In copper cables, the data is transmitted due to the movement of electrons. This is the reason; copper cable allows data transmission in the form of electrical pulses.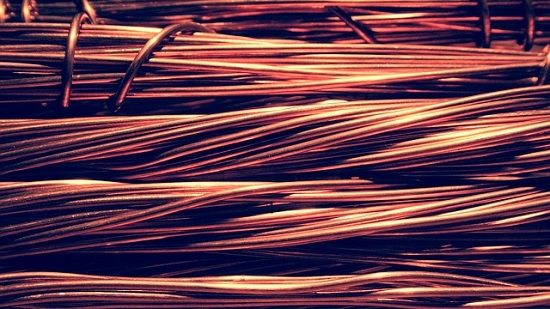 Copper cabling is known as the most compatible element in case of electrical equipment. When telephones were invented in 1876 then need of copper cables as electrical conductors had increased considerably.
Copper is material that possess excellent creep characteristics that prove advantageous during cable connections. At the same time as compared to other metals copper exhibits corrosion resistance property.
Definition of Fiber Optics
Fiber optics allows the transmission in the form of light pulses. These are composed of one or more strands of glass or silica. These are basically dielectric waveguide that works at optical frequencies.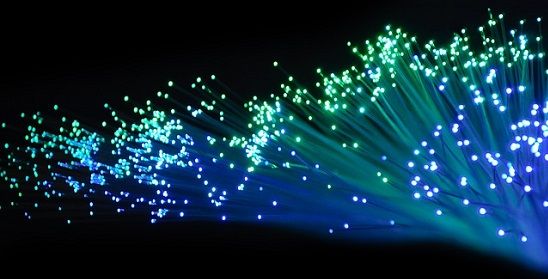 Fiber optics utilizes the principle of Total internal reflection in order to transmit electromagnetic energy in form of photons (light particles).
Fiber optics is composed of glass core which is surrounded by a plastic cladding having a lower refractive index as compared to the core. The figure below shows a typical fiber optics

When we talk about a fiber optic system then it necessarily has a device to convert an electrical signal into a light signal at the transmitting end. Furthermore, a device that takes the light signal and changes it into the electrical signal at the receiving end.
It utilizes wavelength near to the infrared range of spectrum that lies above visible range hence is not identified with naked eyes.
If we are discussing light wave transmission through an optical fiber, then it is necessary to understand how this happens.
The incident light ray in fiber optics travels through the core by successive reflections from the cladding. This is so because the incident angle of the light ray is more than the critical angle. Hence, causes reflection of the light ray from cladding, thus, allowing it to transmit through the fiber. As the light is not absorbed by the surface of the cladding.
Thus, a wave can transmit to longer distance. But, impurities of the glass material sometimes cause degradation in the transmitted signal.
Key Differences Between Copper Cable and Fiber Optics
The key difference between copper cable and fiber optics is that the data transmission speed of a fiber cable is comparatively more than that of copper cable. Copper cables are nearly 31% slower in data transmission than fiber cable.
A copper cable transmits the data through it in the form of electrical pulse i.e., due to the movement of electrons. As against in a fiber optics, the data transmission is the result of movement of photons thus it transmits in the form of light pulses.
The bandwidth provided by a copper cable is less than that of the fiber optics. Thus, a copper cabling meets the industry standards and provides a performance of up to 10 Gbps.  However, a fiber optics due to its large bandwidth possess better performance of up to 60 Tbps and above.
The energy consumed by a copper cable during its operation is somewhat greater than 10W but on the other side, fiber optics consumes less energy i.e., around 2W per user.
The lifespan of a copper wire is approximately 5 years as it gets easily affected by temperature variations and other environmental factors. However, fiber optics possess a lifespan of 30 to 50 years.
As fiber optics are difficult to be tapped as compared to copper cables thus proves advantageous from the security point of view. Due to this reason fiber optics are widely used for data transmission at present time.
A fiber optics allows transmission of data at a much faster rate as compared to copper cable.
The installation and maintenance cost of a fiber cable is more than copper cable.
Advantages
Copper Cable
It possesses higher electrical conductivity.
Copper cables are less expensive and has low maintenance cost.
These are highly compatible thus is widely used with electrical equipments.
It is extensively available.
Fiber Optics
Optical fiber cables are durable hence last for longer durations when installed.
It possesses greater immunity to electromagnetic interference.
Due to large bandwidth, a large amount of data can be transmitted through the cable.
Fiber optics allows secured data transmission.
Due to thin structure and smaller diameter, these occupies less space and is light in weight.
Fiber optics has a much higher capacity as compared to copper cable.
Disadvantage
Copper Cable
These are less reliable.
Data transmission speed of copper cables is high due to low bandwidth.
It consumes more power.
Less immune to noise and other interferences.
Fiber Optics
As these are fragile in nature (delicate) thus requires more protection in comparison to copper cables.
Installation cost of optical fiber cable is high and is difficult to install.
The need for repeaters increases with distance.
Excessive bending can easily deteriorate the cable.
Application
Copper Cable
These are widely used in electricity distribution systems and telecommunication system.
Due to easily bending nature, these are widely used in automobile industry.
Fiber Optics
In telephone systems and Surveillance cameras.
These are widely used in computer networks and submarines cable networks.
Conclusion
So, after this discussion, we can conclude that fiber optics are more durable and reliable and thus replaced copper cables very efficiently in the recent era.
Previously, copper cables were widely used, however, nowadays, fiber optics are proved as their replacement in various applications.
But, it is noteworthy here that higher installation and maintenance cost sometimes lower the usage of fiber optics.