Definition: A study that utilizes electronic power devices from converting one form of electric power into another form of electric power with proper control is known as Power Electronics. Basically, in power electronics, solid-state electronics, is used that performs the action of control and convert of the electric power.
Power Electronics is regarded as an important subfield of electrical and electronics engineering.
The pictorial representation given below provides an idea about the operation of a power electronics-based system:

Concept of Power Electronics
The branch of electrical engineering is sub-classified into three categories namely:
Electronics
Power
Control
It is known to us that electronics generally revolves around semiconductor devices and circuits and thus the arrival of various technologies has made electronics a crucial branch of engineering.
Now, coming to the power domain, so power is associated with the generation, transmission, distribution, and utilization of various forms of electric power in static as well as rotating machinery. While control deals with the response characteristics of the systems incorporating feedback mechanisms for continuous or sampled data.
Thus, as a whole power electronics is regarded as the field that is concerned with the use of electronics for the purpose of controlling and conversion of electric power. To achieve this, the designing of such systems is done by maintaining interaction between source and load by making use of small-signal electric control circuits and power semiconductor devices.
Power electronics is known to be a vast as well as complex subject that is advancing with technology and turning out cost-effective with the various inventions. Its operations are quite reliable and are expanding in various fields like industrial, commercial, residential, military, and aerospace applications.
Relation of Power Electronics with other Disciplines
Power electronics has emerged as an important domain of electric power engineering and shows its close relationship with various other disciplines like semiconductor physics, circuit theory, analog, and digital electronics. Along with these, analog and digital control systems, electrical machines and power systems, electromagnets and electrical machines, etc.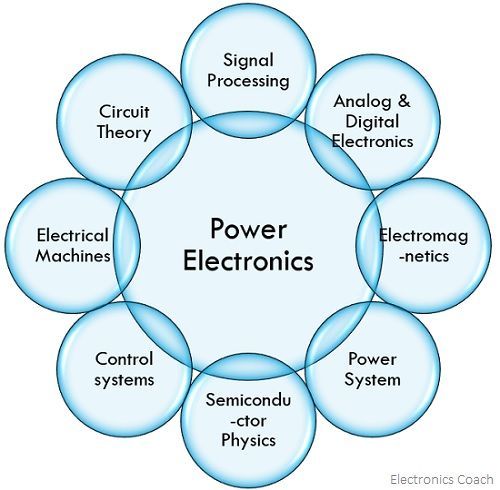 With the advent of various technological advancements in semiconductor physics, electronic devices and circuits along with control theory, the uses of power electronics in various fields have upgraded significantly.
Block Diagram of Power Electronics
We have already discussed that majorly power electronics deals with conversion and controlling of a large amount of electric power. This means the converter and controller are its two major components. We know that the fundamental operation of power electronics is the processing and controlling of electric energy by giving sufficient voltage and current so that it will be suitable for various consumer applications. The processing or converting of electric power is achieved through a power electronics converter also known as power converters or switching converters.
The figure below represents the block diagram of a power electronics-based system: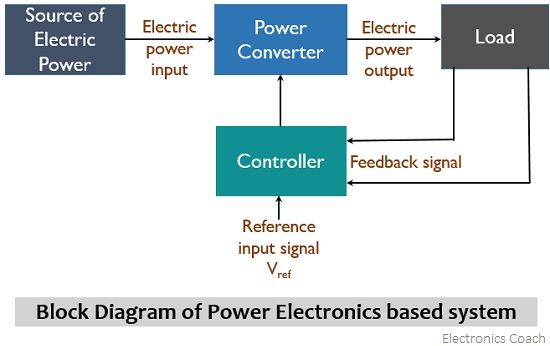 As it is clear from the above figure that here we are having a power electronics converter and controller along with some interfacing units. The power converters change one form of electric power into some other form with the use of a power semiconductor device. While power controllers are the ones that are responsible for producing control signals relative to turning on or off of the switching devices present within the circuit. The complete operation of the system will provide the desired signal of a particular frequency as shown in the block diagram given above.
Here you must note that the controller acts as feedback for the system that controls the operation of the controller depending on the feedback signals from the load.
In power electronics-based systems, there can be an AC or DC source of electric power. The DC electric power source can be a DC generator, battery, etc. while the ac electric power source can be an alternator or induction generator. With the use of a controller, a signal of controlled power reaches the load end from the source via a converter.
The converter provides ac or dc electric power according to the load with variable voltage and frequency. Here we have said that the electric power at the output is dependent on the load and the reason behind this is when the load is dc motor then the converter provides output as adjustable dc voltage. But suppose we have a three-phase induction motor at the load then the output of the converter will be adjustable ac voltage.
Further, the parameters on which load is measured like the voltage, current, etc. acts as the input signal for the controller unit. These are known as feedback signals or controller input signals. Along with the feedback signal, the controller is also provided with the reference input signal. The control signal generated by the controller is an outcome of the comparison made between the feedback signal and reference input signal and is regarded as the heart of the system. This control signal regulates the turning on and off of the switching devices of the power converter.
In this way with proper control, the desired output is achieved at the load.
Power Semiconductor Devices
The pictorial representation given below shows the classification of power semiconductors devices in power control circuits: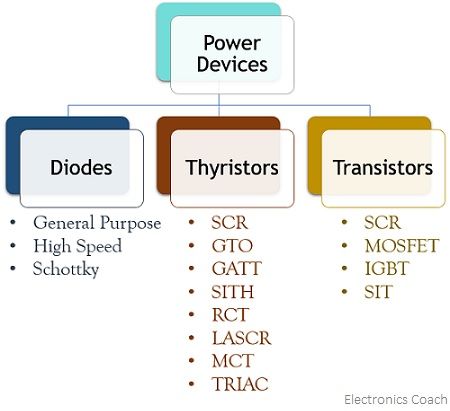 Advantages of Power Electronics Converters
The advantages are as follows:
Highly reliable
Less loss of power
Efficient
Fast response
Long life
Small size and less in weight
Disadvantages of Power Electronics Converters
The disadvantages are listed below:
Low overload capacity
Harmonics are generated
Expensive
Applications of Power Electronics
Power electronics shows numerous uses in various technological fields like industrial automation, energy generation and conversion, environmental pollution control, etc. Its major uses are as follows:
Industries: In chemical processing equipment, welding, lighting, electroplating, pumps, and compressors, induction heating, boiler, conveyors, cranes, electromagnets, electric vehicles and furnaces, etc.
Home Appliances: Refrigerators, vacuum cleaners, washing machines, sewing machines, dryers, mixers and grinders, air conditioning, etc.
Commercial: Computers, electric fans, vending machines, audio amplifiers, battery charges, photocopiers, etc.
Medical: Medical instruments and machines, fitness and test machines, etc.
Automotive and Security systems: Electric vehicles, regulators, Radar/Sonar, Alarms, etc.
Aerospace: Satellite systems, aircraft and space vehicles, spaceship power systems, etc.
Transportation: Motor drives, trains, trollies and subways, locomotives, streetcars, elevators, magnetic levitation, etc.
Telecommunication: DC power supply, UPS, wireless communication, transmitters, and receivers, etc.
Power systems: Static circuit breakers, thyristor controlled reactors, energy storage systems, harmonics suppression, etc.
You must note here that a crucial advent of power electronics in terms of usage came as its ability to save electricity of electrical apparatus. We know that today's world is heading towards the consumption of energy for the benefit of humans in household chores and industrial needs. Generally, most of the energy is achieved by burning fossil fuels that resultantly causes global warming. Thus, the use of power electronics in electrical apparatus is helping in the reduction of electricity consumption and thereby increasing efficiency.
It is to be noted here that estimations show that around 15% of the consumption of electricity can be reduced by the use of power electronics.